The Retreat is an architect-designed, 3½ storey timber dwelling, set in a 700 year old stand of native trees. We chose a John Comeskey design from the 1970's, which blends into the landscape. The structure is open plan, leading from the semi-circular living room with free-standing fireplace, up to the main dining, kitchen and utility area. The kitchen is paved with red bricks and is complete with electric oven, microwave and for the nostalgic, a wood-burning stove as well. Just off the kitchen, in the old conservatory, is the breakfast room, with a tiled floor, cane furniture and a Mediterranean feel.
The bath/shower room and toilet are also brick floored, and instead of windows, have wooden shutters opening to the native bush. The windows however, are in the ceiling, with the whole roof being totally glassed! Up the circular, brick-encased staircase are the two main bedrooms, one with a queen-sized bed from which you can gaze over the surrounding countryside through a two-storey high arched window ... or open the french doors and enjoy the bird life from the private balcony. In the season, the huge native wood pigeons (kereru) gorge themselves on the berries of the nearby miro tree!
The other bedroom is smaller, with a double bed, and two small arched windows built into the rough-timbered sloping walls. On this floor is also a second toilet & handbasin. A third bedroom is up a vertical ladder, with two single beds and a window above the stair tower. An extra bed is available on the wide window seat in the dining area, at the base of the high arched window. The grounds are private, with roses, rhododendrons and camellias, a gas barbecue and rustic table under the trees. The Homestead, where one can have all meals if desired, is only a short walk away, over a small bridge and past the ponds and croquet lawn. Altogether a romantic retreat for honeymooners, special weekenders, or for two or three couples wanting to "get away from it all".
Breakfasts, lunches and evening meals are available by arrangement at an extra cost from The Homestead.
$120 single/double, extra person $60 each, to house maximum of $320.
No arrivals before 4pm.
Rates valid until 31-12-2023. 2024 rates will increase by approx $10pp.
Read our guests' comments here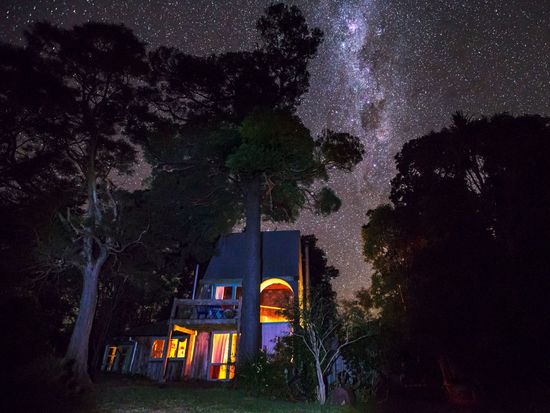 Retreat at night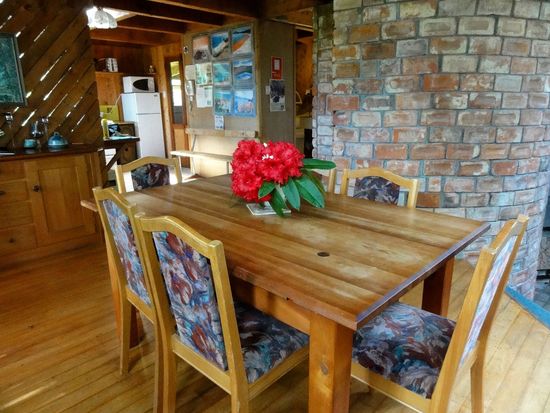 Retreat dining
Master bedroom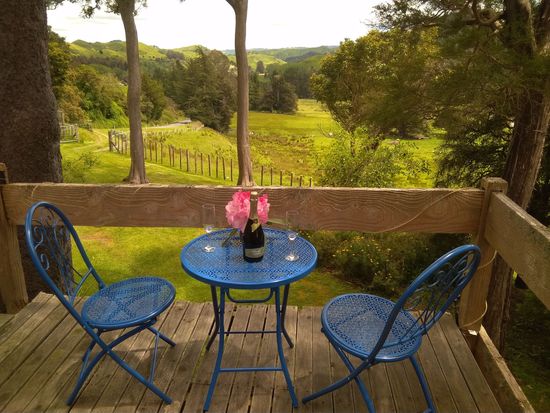 Retreat balcony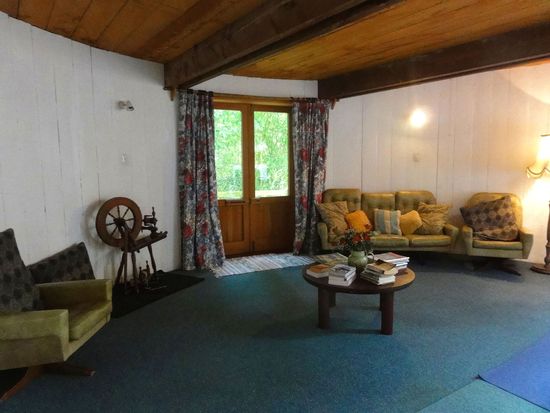 Retreat lounge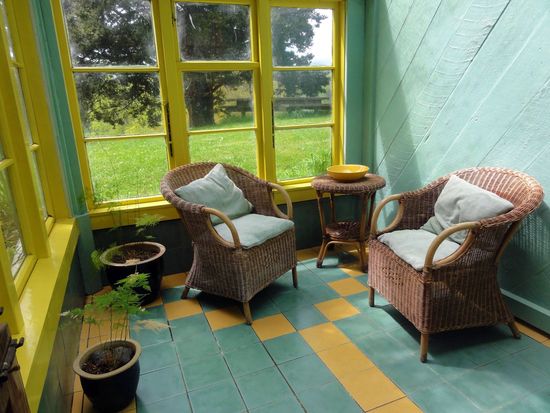 Breakfast nook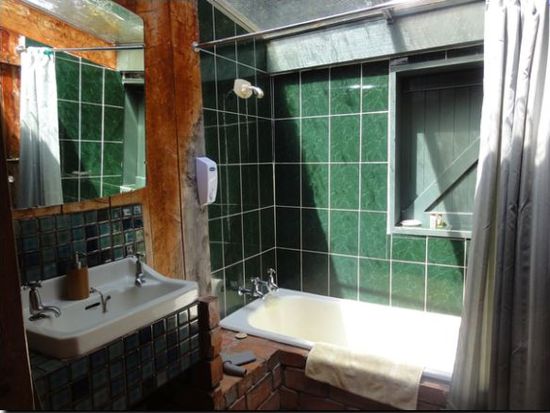 Retreat bathroom
❮
❯